Sage 200 Versions, Release Dates and Supported Status
Latest version: Sage 200 Professional 2022 R1
Action Required: Upcoming Changes to your Sage 200 Product
Notice Date: 24/02/2022
There are a number of developments which impact the majority of Sage 200 Professional users by Q3 2022. We will be contacting each of you individually to outline what is changing and what we/you need to do and by when. Find out more in our article here.
Every year in Autumn an older version of Sage 200 moves into "end of support" status and another version enters a status of 'extended support'. This is detailed in Sage's support policy and is standard industry practice for technology companies. You can check your version against this handy table below.
Green versions are currently supported by Sage UK.
Orange versions will become unsupported on September 2022. We highly recommend that you contact us to book in your upgrade to the latest version.
Red versions are unsupported by Sage. Again, we recommend upgrading ASAP to the latest version.
All versions prior to 2022 R1 will be affected by the removal of Internet Explorer.
Tip: If you're not sure which version you are using, click on the Cog (Settings) button at the top right of the main Sage 200 screen and select About Sage 200. Compare your version number (e.g. 12.00.0041) to the Database Version* in table below.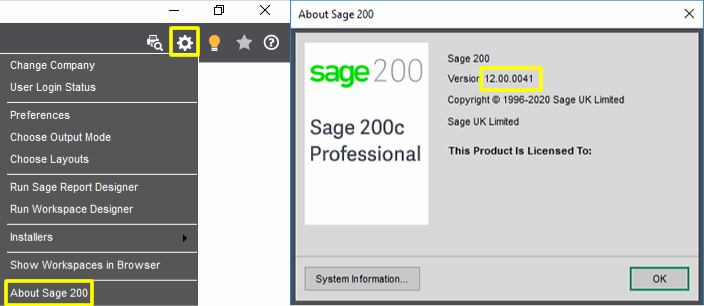 | | | | | | |
| --- | --- | --- | --- | --- | --- |
| Version – Within Lifecycle: | Internal Number | Database Version* | Release Date | End Of Support | Action Required |
| 2022 R1 | 2022.01 | 12.00.0046 | 21-Feb-22 | Jan 2025 | No action required, fully up to date. |
| 2021 R1 | 2021.01 | 12.00.0043 | 22-Jul-21 | Jan 2024 | Patch available soon for bank feeds/invoice payments. SLS/TLS issue not present. But version affected by IE removal. Upgrade advised. |
| 2020 R2 | 2020.01 | 12.00.0041 | 22-Dec-20 | Jan 2023 | Patch coming soon. But version affected by IE removal. Upgrade advised. |
| 2020 R1 | 2020 | 12.00.0036 | 03-Mar-20 | Jan 2023 | Patch coming soon. But version affected by IE removal. Upgrade advised. |
| Summer 2019 Enhancements | 2019.01 | 12.00.0035 | 21-Aug-19 | Jan 2023 | Patch coming soon. But version affected by IE removal. Upgrade advised. |
|   |   |   |   |   |   |
| Version – Support Ending Sep 2022: | Internal Number | Database Version* | Release Date | End Of Support | Action Required |
| Spring 2019 Enhancements | 2018.02 | 12.00.0031 | 01-May-19 | 30/09/2022 | SLS/TLS patch available, but upgrade to v2022 R1 strongly advised. |
| Winter 2018 Enhancements | 2018.01 | 12.00.0027 | 05-Feb-19 | 30/09/2022 | SLS/TLS patch available, but upgrade to v2022 R1 strongly advised. |
| Summer 2018 Enhancements | 2018 | 12.00.0020 | 11-Sep-18 | 30/09/2022 | SLS/TLS patch available, but upgrade to v2022 R1 strongly advised. |
|   |   |   |   |   |   |
| Version – No Longer Supported: | Internal Number | Database Version* | Release Date | End Of Support | Action Required |
| Spring 2018 Enhancements | 2017.02 | 12.00.0013 | 24-Apr-18 | 31/01/2022 | SLS/TLS patch available *Sage are making an exception for this version, even though it is no longer supported. Upgrade to v2022 R1 strongly advised. |
| Winter 2017 Enhancements | 2017.01 | 12.00.0007 | 08-Jan-18 | 31/01/2022 | Must upgrade to v2022 R1. |
| Summer 2017 Enhancements | 2017 | 12.00.0003 | 10-Aug-17 | 31/01/2022 | Must upgrade to v2022 R1. |
| 2016 | 2016 | 11.00.**** | 07-Mar-17 | 30/09/2020 | Must upgrade to v2022 R1. |
| 2015 | 2015 | 10.00.**** | 29-Feb-16 | 30/09/2019 | Must upgrade to v2022 R1. |
| 2013 R2 | 2013.02 | 9.02.**** | 06-Mar-15 | 31/10/2018 | Must upgrade to v2022 R1. |
| 2013 | 2013 | 9.00.**** | 27-Feb-15 | 31/10/2018 | Must upgrade to v2022 R1. |
| 2011 | 2011 | 8.00.**** | 20-Feb-15 | 30/09/2018 | Does not use online licence service, but we strongly recommend upgrading to v2022 R1 to stay within product lifecycle and not be affected by IE removal. |
| 2010 | 2010 | 7.00.**** | 13-Feb-15 | 31/10/2019 | Does not use online licence service, but we strongly recommend upgrading to v2022 R1 to stay within product lifecycle and not be affected by IE removal. |
| 2009 | 2009 | 6.00.**** | 06-Feb-15 | 30/09/2019 | Does not use online licence service, but we strongly recommend upgrading to v2022 R1 to stay within product lifecycle and not be affected by IE removal. |