Sage 200 Versions, Release Dates and Supported Status
Latest version: Sage 200 Professional 2023 R2
As new Sage 200 versions are released up to twice a year in February and August, a corresponding older variant of Sage 200 moves into 'end of support' status, whilst another version enters a status of 'extended support'. This is detailed in Sage's support policy and is standard industry practice for technology companies. You can check your version against this handy table below.
Green versions are currently fully supported by Sage UK.
Orange versions have entered extended support status and will reach end of support status by the date referenced. We recommend that you contact us to plan your upgrade to the latest version.
Red versions are unsupported by Sage, and as such legislative and critical updates have stopped and assistance from Sage is now limited. We recommend upgrading ASAP to the latest version to stay within the product/support lifecycle.
Tip: If you're not sure which version you are using, click on the Cog (Settings) button at the top right of the main Sage 200 screen and select About Sage 200. Compare your version number (e.g. 12.00.0041) to the Database Version* in table below.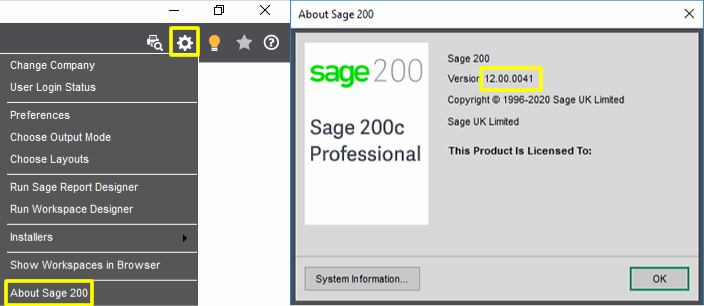 | | | | | | | |
| --- | --- | --- | --- | --- | --- | --- |
| Version – Within Lifecycle: | Internal Number | Database Version* | Release Date | Extended Support | End Of Support | Action Required |
| 2023 R2 | 2023.02 | 12.00.0051 | 25/08/2023 | 01/02/2025 | Aug 2026 | No action required. |
| 2023 R1 | 2023.01 | 12.00.0048 | 01/02/2022 | 01/02/2025 | Feb 2026 | No action required. |
| 2022 R2 | 2022.02 | 12.00.0047 | 26/08/2022 | 01/02/2024 | Aug 2025 | No action required. |
| 2022 R1 | 2022.01 | 12.00.0046 | 21/02/2022 | 01/02/2024 | Feb 2025 | No action required. |
| Version – Entering Extended Support: | Internal Number | Database Version* | Release Date | Extended Support | End Of Support | Action Required |
| 2021 R1 | 2021.01 | 12.00.0043 | 22/07/2021 | 01/01/2023 | Feb 2024 | Consider starting to plan your upgrade to the latest version. |
| Version – No Longer Supported: | Internal Number | Database Version* | Release Date | Extended Support | End Of Support | Action Required |
| 2020 R2 | 2020.01 | 12.00.0041 | 22/12/2020 | 01/01/2022 | Aug 2023 | Upgrade to latest version strongly recommended. |
| 2020 R1 | 2020 | 12.00.0036 | 03/03/2020 | Jan 2022 | Feb 2023 | Upgrade to latest version strongly recommended. |
| Summer 2019 | 2019.01 | 12.00.0035 | 21/08/2019 | 01/08/2021 | Feb 2023 | Upgrade to latest version strongly recommended. |
| Winter 2018 | 2018.01 | 12.00.0027 | 05/12/2019 | 01/08/2021 | Feb 2023 | Upgrade to latest version strongly recommended. |
| Summer 2018 | 2018 | 12.00.0020 | 11/09/2018 | 01/08/2021 | Feb 2023 | Upgrade to latest version strongly recommended. |
| Spring 2018 | 2017.02 | 12.00.0013 | 24/04/2018 | 01/08/2021 | Jan 2022 | Upgrade to latest version strongly recommended. |
| Winter 2017 | 2017.01 | 12.00.0007 | 08/01/2018 | 01/10/2020 | Jan 2022 | Upgrade to latest version strongly recommended. |
| Summer 2017 | 2017 | 12.00.0004 | 10/08/2017 | 01/10/2020 | Jan 2022 | Upgrade to latest version strongly recommended. |
| 2016 | 2016 | 11.00.**** | 07/03/2017 | 30/09/2020 | Sep 2020 | Upgrade to latest version strongly recommended. |
| 2015 | 2015 | 10.00.**** | 29/02/2016 | 30/09/2019 | Sep 2019 | Upgrade to latest version strongly recommended. |
| 2013 R2 | 2013.02 | 9.02.**** | 06/03/2015 | 31/10/2018 | Oct 2018 | Upgrade to latest version strongly recommended. |
| 2013 | 2013 | 9.00.**** | 27/02/2015 | 31/10/2018 | Oct 2018 | Upgrade to latest version strongly recommended. |
| 2011 | 2011 | 8.00.**** | 20/02/2015 | 30/09/2018 | Sep 2018 | Upgrade to latest version strongly recommended. |
| 2010 | 2010 | 7.00.**** | 13/02/2015 | 31/10/2019 | Sep 2016 | Upgrade to latest version strongly recommended. |
| 2009 | 2009 | 6.00.**** | 06/02/2015 | 30/09/2019 | Sep 2015 | Upgrade to latest version strongly recommended. |