Sage 200 Standard Online
Sage 200 Standard Online provides the power of a desktop application combined with the mobility of the cloud.
Page to be updated.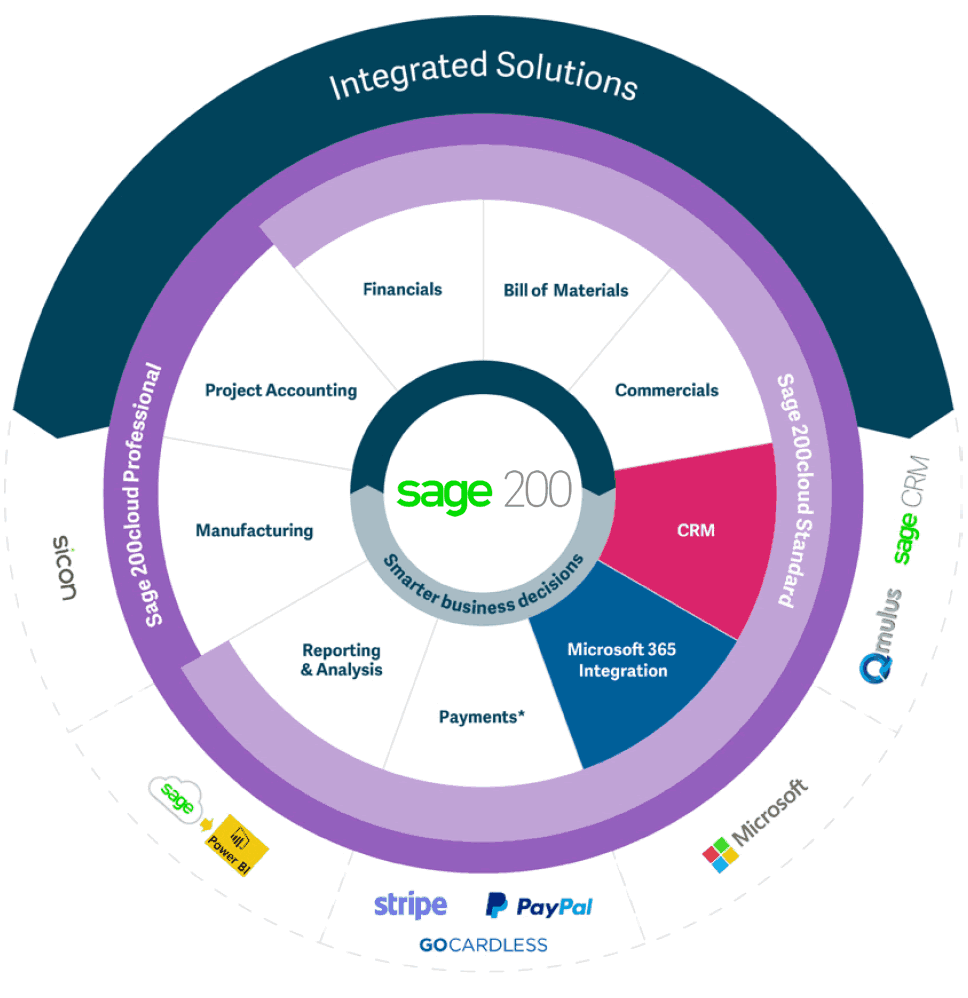 Sage 200 Professional is a modular based software solution giving you the flexibility of picking and choosing the right solution for you, every business is different and as such we will sit and discuss with you exactly what you're looking for from the software. By understanding your business and how you want your end solution to look like we can work out which modules would best suit your operation, we will also advise when there is a functionality requirement that currently does not exist within Sage. This is the advantage of having a dedicated team of developers, which can customise Sage 200 to seek a solution for any challenge.
Sage 200 Professional is ideally suited for small to medium sized businesses with a turnover of around £1m-£50m, Sage 200c brings together financial and commercial management, customer relationship management and business intelligence software all in one end to end solution allowing you to share data easily throughout your business. Specifically designed for financial, manufacturing, distribution and retail businesses to create an efficient, business-wide system.
Sage 200 is an ideal upgrade path for many Sage 50 and Sage 100 users, as well as users of older Sage 200 versions, who are experiencing rapid growth, the Sage 200 Suite utilises the SQL relational database therefore over 50 users can access the same dataset without encountering issues, a vast improvement from Sage 50.
The Sage 200 core system, Financials, includes Sales, Purchase, Nominal and Cash Book Modules as well as Sage 200 Business Intelligence and Excel Reporting, giving you full control over your accounts, VAT, banking and payments through e-banking integration.
Add on the Commercial modules for Stock Control, Sales Order Processing, Purchase Order Processing, Invoicing and Price Book modules to make light work of ordering and returns, stock management, EC Sales and Intrastat reporting.
Project orientated businesses can opt for the additional Project Accounting module, which fully integrates with the Financial and Commercial modules for excellent stage by stage control, tracking and billing of your jobs.
Manufacturers can opt for the additional Bill of Materials module on it's own to track the assembly of components into finished items, or consider adding Sicon Manufacturing for more advanced Works Order Processing, Estimating and MRP capabilities.
New for 2022: Sales Order & Quotation Web Entry
Designed for tablets and laptops, access select features of your Sage 200 application from anywhere in the world directly from your web browser.
New for 2022 is the ability to enter full sales order and sales quotations.
What can you access? More information here.
Migrating from other software or an older Sage version?
Our expert data migration team will take data from your old Sage Line 100, Sage 50 Accounts, Sage MMS, older Sage 200 versions and many non-Sage systems such as Pegasus Opera, Xero, Quickbooks and SAP, and transform this into data ready for your new solution.
Managing the changing complexities of your business, Sage 200c is a flexible, customisable solution designed with business control and management reporting, utilising information, and you as the customer in mind. It's easy, simple and quick to use and held in the Nominal Ledger, Cash Book, Sales and Purchase Ledgers. Sage 200c has an intuitive, modern interface, easy navigation, toolbars and search to make sure you can get to the information you need quickly and easily. Sage have also provided tools to make extracting and interpreting information easy, in a format you know how to use – Excel™.
Now with added Sage Payments integration and Purchase Document Scanning.
Sage 200c Commercials automates the delivery of your customer orders with effective stock management. By responding to product and pricing demands quickly and effectively you can maintain customer loyalty and customer satisfaction and you have the complete control required to manage your supply chain.
In addition, tight integration with Sage Payment Solutions (optional) enables credit control, and customer service staff, to quickly and easily accept credit card payments from customers.
Now with Sales Order cross-selling capabilities, suggest frequently and recently bought items or related items.
Sage 200 Business Intelligence
Business Intelligence provides you with full business wide analytics to enable you to make fast, informed decisions, complete with management dashboards.
It helps you to embrace strategic planning for business growth, by identifying key trends and patterns in your data and gain a better understanding of your business, transforming data into actionable information. You are more responsive and can support future planning with the ability to identify opportunities to increase revenue or to reduce costs.
Sage 200 Project Accounting
Project Accounting is a powerful, intuitive, highly configurable and flexible costing application that enables true performance measurement to ensure profits are maximised, it adapts to the needs of your businesses whether you manage projects or operate in service based industries.
Applicable to a large range of businesses from those with very simple costing to those requiring more complex costing and analysis structures, it provides in-depth analysis and reporting to make sure projects remain on target and maintain profit levels.
The Century Edge
Century Software are a Sage 200 cloud Professional Accredited Business Partner experienced  in  modifying  your standard Sage 200 software specifically for your business and industry requirements. We will also ensure your chosen solution will  integrate with other  software packages as required. As local independent Business Partners we offer you the reassurance of support face-to-face, online or over the phone – giving you the confidence of knowing there's always someone nearby who understands your business.
We get your software up and running quickly and efficiently, supporting you from initial implementation and throughout the product life cycle, providing technical support and guidance for all your product queries no matter how major/minor, we are here to assist, helping you get the most out of Sage with our expert training and bespoke training guides, customising and developing your software to meet the on-going needs of your business with our in house developers.
Fully Customise and Tailor Your Solution
As experienced Sage 200 Developers, Century are able to fully integrate your solution with your other in house and online products. Custom screens, routines, reports, imports, exports and more can be written to save you time and money. Stop double entry of data, eliminate human error and increase business efficiency.